Floatzel.Net is being rebuilt!
Portions of this site will begin redirecting to the new one.


Skip to content:
News | Recently Replied Topics
News
---
By
Cat333Pokémon
on
June 10, 2012
I've added a box at the top of the homepage that lists the last 15 posts in all public boards, excluding the Game Corner, with the intention that this easy-to-see list will aid users in using the forums better.
If you have any issues with it, please let me know. Yes, I know it looks a little strange on some themes. If it's missing from any, also let me know.
29 comments
---
By
AuraKshatriya
on
June 10, 2012
The upcoming issue of CoroCoro Magazine has had it's cover leaked, showing a brief glimpse of Keldeo's new form, the
Resolution Form
. What may be seen of the form shows that it features Keldeo sporting a longer mane, longer, blue, spiral-shaped horn, and three feather-like projections on its head. It is worthy of note that said projections appear to represent the other members of the Musketeer Quartet from a chromatic standpoint. This leak also confirms that this issue will detail the form more fully, with its leak being projected to mere days from this news post. The image in question may be viewed below: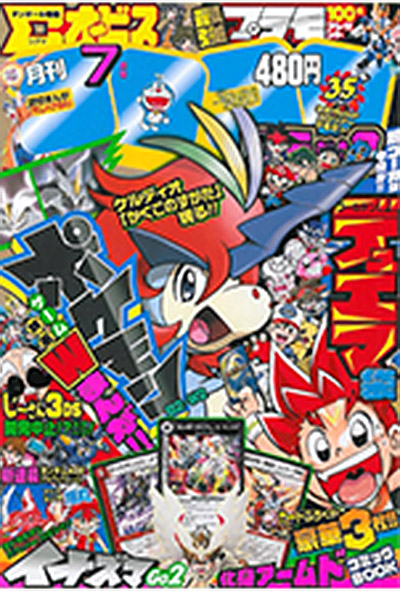 Source(s):[
PokéBeach
], [
Keldeo's Resolution Forme revealed
]
11 comments
---
By
The Spirit of Time
on
June 9, 2012
Recently, some people discovered that Shokotan, a presenter of Pokémon Smash has hinted on her blog that Keldeo will have a new form, called the
Resolution Form
. Although no pictures were provided, this was also foreshadowed in the previous CoroCoro issue, in which Keldeo was said to be engulfed in mysterious light.
Pictures of the new form are expected to be shown in the next CoroCoro issue.
Source:
Serebii
6 comments
---
By
The Spirit of Time
on
June 7, 2012
A new trailer was revealed by the Nintendo Channel, featuring the new sequel, as well as Pokémon Dream Radar. This trailer has no additional information, but shows a new perspective of the game.
Source:
PokéBeach
1 comment
---
By
Cat333Pokémon
on
June 4, 2012
Starting June 15, Pokémon figures will be coming back to McDonald's restaurants in North America. Each will include a single card from the Pokémon Trading Card Game. The selection of toys is Pikachu, Axew, Dewott, Pignite, Servine, and Woobat, and they will likely retail for the standard Happy Meal toy price of 2 USD. Be sure to head to your local McDonald's pick them up!
Source:
Pokémon.com: Pokémon-themed Happy Meals Return to McDonald's!
7 comments
---
By
AuraKshatriya
on
June 2, 2012
Today's episode of Pokémon Sunday involved the showing of three, roughly 30-second-long trailers. Two were for Pokémon Black 2 and White 2, where as the final one was for the upcoming Best Wishes! Season 2 anime season. The trailer's revealed that:
All three trailers may be viewed below:
3 comments
---
By
Cat333Pokémon
on
June 1, 2012
HiVelocity has scheduled maintenance on Saturday, June 2 at
2:00 ~ 2:30 AM EST
to update important networking software. There may be downtime during this period, so please be forewarned that this will be normal.
~Cat
10 comments
---
By
kakashidragon
on
May 18, 2012
The recently-surfaced scans of CoroCoro Magazine have revealed details on the upcoming Meloetta and Keldeo Event Distributions. First, a Level 15 Meloetta knowing the moves Round, Quick Attack, and Confusion, and holding a PP Max, will be downloadable by owners of Pokemon Black and White in theatres during screenings of Kyurem VS The Sacred Swordsman-Keldeo, which premieres on
Saturday, July 14th
of this year. Keldeo will be exclusively obtainable by players who reserve tickets to the movie (the sale of which begun on Saturday, April 14th). The Colt Pokemon may then be downloaded during the time period
between Saturday, June 3rd and Friday, August 31st
.
Source(s):
April CoroCoro begins to surface
3 comments
---
By
Glitchy Furrystuff
on
May 15, 2012
A four-minute-long, animated trailer of Pokémon Black 2 and White 2 was leaked on Youtube, due to hacks enabling people to obtain the file for the video-marked private by the Japanese Pokémon Company. However since then, the trailer has been made public, and may be viewed below:
Details shown in this trailer include:
17 comments
---
By
GrassPokemonFTW
on
May 11, 2012
As the images from the newly released Coro Coro are on the run, more important information on Pokémon BW2 has been released!
First, on the early events - it appears as if Alder appears early in-game and asks the player to follow.
The old side-protagonists Cheren and Bianca are expected to make an appearance!
Bianca will be the one to deliver unto the main protagonist their starter Pokémon while Cheren is making a reappearance as a Gym Leader, of what appears to be the Normal-type. As you can see, some aesthetic differences have been made, such as Bianca's new glasses, and Cheren's lack of them.
Team Plasma is also confirmed a reappearance; N, however, according to what appears to be one of the Seven Sages, is still nowhere to be found. Whether he will reappear in game is still questionable.
[ATTACH]2622[/ATTACH]
The "Genie Trio" has been given new forms as well. The original forms are now called the "Incarnation Forme" while the new, winged forms are the "Sacred Beast Forme". They will appear in the new Unova Pokédex, in positions 198, 199, and 200. According to the page, the new forms have boosted defenses and speed in comparison to their Incarnation counterparts.
[ATTACH]2625[/ATTACH]
[ATTACH]2626[/ATTACH]
Next up, there's PokéWood, which is the replacement for the Musicals in BW. Basically, it appears as if you have to face a giant Mecha-Tyranitar. Brycen (Icirrus City's Gym Leader) and Homika's father (father of the new Poison-type Gym Leader) appear at this event. Basically, in PokéWood, you record your Pokémon battling the Mecha-Tyranitar and turn it into a movie.
[ATTACH]2624[/ATTACH]
Finally, some old Champions and Gym Leaders are expected to make an appearance, though all the details are unknown as of yet. There is supposedly a facility at which one can face the Champions of Kanto, Johto, Hoenn, and Sinnoh, along with some memorable Gym Leaders, as shown here, Giovanni, Volkner, Brock, and Misty.
[ATTACH]2623[/ATTACH]
Source:
Serebii
13 comments
---
Jump to Page:
1
2
3
4
5
6
7
8
9
10
11
12
13
14
15
16
17
18
19
20
21
22
23
24
25
26
27
28
29
30
31
32
33
34
35
36
37
38
39
40
41
42
43
44
45
46
47
48
49
50
51
52
53
54
55
56
57
58
59
60
61
62
63
64
65
66
67
68
69
70
71
72
73
74
75
76
77
78
79
80
81
82
83
Archived News
Old news up to August 20, 2009
---
vBulletin Viewer Version 1.7.0 Copyright © 2010 Joseph Parsons.
vBulletin © 2010 vBulletin Solutions. vBulletin™ is a registered trademark of vBulletin Solutions.
Recently Replied Topics
---