Floatzel.Net is being rebuilt!
Portions of this site will begin redirecting to the new one.


Skip to content:
News | Recently Replied Topics
News
---
By
AuraKshatriya
on
September 18, 2011
Movie listings for both 14th Pokémon movies on Amazon.co.jp have revealed that, in an unprecedented first for the series, the movies will be released on Blu-Ray format from the very beginning of their post-theatrical releases. Whether this will hold true for the international versions, after they have had their premieres remains unknown.
Source(s): [
Amazon.co.jp Listing
]
2 comments
---
By
Cat333Pokémon
on
September 17, 2011
After a little bit of negative feedback on the steep induction to purgatory and some discussion amongst staff, I have raised the point values for purgatory and banning.
Purgatory is now at 4 infraction points.
Banning is now at 6 infraction points.
9 comments
---
By
AuraKshatriya
on
September 15, 2011
The titles for the dubbed versions of the 14th Pokémon movies have been revealed via Pokemon.com to be
Pokémon The Movie:White-Victini and Zekrom
, and
Pokémon The Movie:Black-Victini and Reshiram
. This marks the first time since the first Pokémon movie that a dub title included "The Movie" in it's title. This comes a somewhat of a surprise, as the Japanese Official Website for both movies is still accessible, with their original theatrical premiere being on July 16th, and thus indicates how early this announcement is, compared to announcements in the past. Furthermore, as per a collaborative effort by both The Pokémon Company and Cinedigm Digital Cinema, both movies will have a single-weekend run in over 300 cinemas in U.S.A, on December 3rd, and December 4th. The trailers for both movies will be made available on Pokemon.com this upcoming weekend, September 17th and 18th, following a screening of
Zoroark:Master of Illusions
. While the actual theatres to host this event are as of yet unknown, CineDigm's page on the subject notes that a full list will be made available "soon".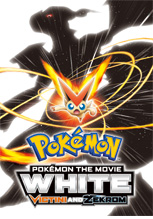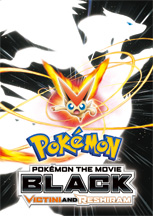 Source(s):
[
Pokemon.com (Zekrom)
]
[
Pokemon.com (Reshiram)
]
[
Limited Theatrical Release Announcement (CineDigm)
]
18 comments
---
By
kakashidragon
on
September 14, 2011
Famitsu Magazine has revealed a new upcoming Dream World Expansion via their latest issue. It is to be called the
Old Mansion
, where Pokémon such as Spiritomb and Chimecho will be available through a new mini-game,
Candle Extinguishing
along with new items, berries, and house accessories. The expansion will be made public on September 28th, later this month.
Source(s): [
BulbaNews
]
5 comments
---
By
The Spirit of Time
on
September 11, 2011
While details are currently scarce, TV Tokyo has announced that the episode of Pokémon Smash set to air on September 18th will feature Jun'ichi Masuda, Director and Composer of the Pokémon Company revealing a shocking announcement. From previous experience, it is speculated that this announcement would be about a new game.
Furthermore, the Pokémon Company's CEO, Tsunekazu Ishihara, had previously said that there will be more surprises this year, which should keep our expectations up throughout these last few months. People expect some details to be shown by the upcoming release of CoroCoro, which should be anytime soon.
For the time being, it was announced that a new Mewtwo event will be held soon, but no details were provided.
EDIT:The shocking announcement is now confirmed through CoroCoro magazine leaks a sequel to the old PokéPark game on the Wii, called
PokéPark 2:Beyond The World
. Pictures can be seen below.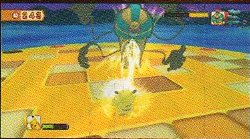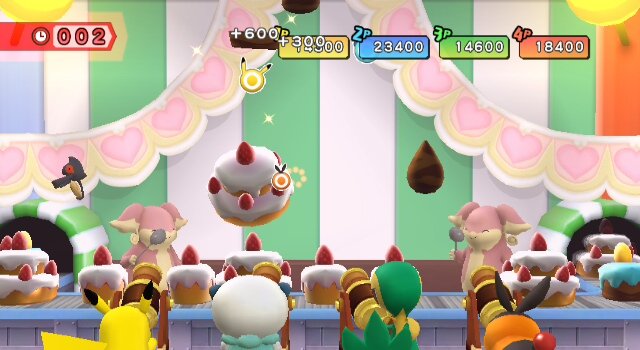 Source:
Serebii
32 comments
---
By
Yoshi648
on
September 6, 2011
Yes, it is Zoroark Month in the Pokémon universe. During the month of September there will be various Zoroark-based events occurring. They include:
*A special event Zoroark being given away at Toy's R Us. This special Zoroark is level 50 and knows the move Snarl. The event will be held from Sunday the 18th to Sunday the 25th (so you got a week to get it).
*Next, on the weekend of the 17th and 18th, you can watch the entire 13th movie Zoroark: Master of Illusions on the
official Pokémon website
.
*The DVD of the movie will then be available to purchase on the 20th. There will also be a special Zoroark—Illusions Collection box for the TCG and the manga version of the movie to be released.
*In addition, a new C-Gear skin featuring Zoroark has been released on the Pokémon Global Link. The password to unlock it is:
ZoroarkMonth11
*Finally, a contest is also being held on where you can win all of the new Zoroark stuff coming out along with a 3DS and a copy of both Black and White. All you need to enter is a valid e-mail address and to be resident of the United States.
You can read more about all of these events here on the Pokémon website.
'

*inb4 Cat clicks the Like button over a million times*
'
18 comments
---
By
Shade
on
September 6, 2011
It's the dawn of a new age for fans of the Pokémon Trading Card Game with the release of Pokémon TCG: Black & White—Emerging Powers. Available now, this landmark expansion is the first to give Pokémon TCG players full access to theme decks and booster packs in the new player-versus-player Pokémon Trading Card Game Online!
Pokémon TCG players who log into
www.pokemon.com/tcgo
now have the freedom to battle anytime, anywhere against players from around the globe. The competition intensifies when players purchase Pokémon TCG: Black & White—Emerging Powers theme decks and booster packs. These products allow players to build customized decks for online battle with virtual cards unlocked with special in-pack codes!
The new Pokémon TCG: Black & White—Emerging Powers expansion, featuring only Unova region Pokémon, comes ready for battle, whether playing in the real world or online, with more than 90 cards and brand-new Item cards to revitalize each deck. As players explore the secrets of the Unova region, they'll discover a legion of 25 astonishing, never-before-seen Pokémon, including the debut of the Legendary Trio of Cobalion, Terrakion, and Virizion!
Two Pokémon TCG: Black & White—Emerging Powers theme decks are now available in stores. Each theme deck—Power Play and Toxic Tricks—will feature a special foil card! The four booster pack designs, also now available, feature fierce new Pokémon—Tornadus, Cobalion, Braviary, and Darmanitan—with each booster pack including one guaranteed foil card!
Key features of the new Pokémon TCG: Black & White—Emerging Powers expansion:
* Free codes to unlock similar virtual cards for the player-versus-player Pokémon TCG Online
* Over 25 new Pokémon from the Unova region
* Debut of the Legendary Trio of Unova
* Two new theme decks, Power Play and Toxic Tricks, built around powerful * Pokémon Krookodile and Scolipede
* Full-card art cards of the Legendary Pokémon Tornadus and Thundurus
* Contains more than 90 cards
Source:
Pokémon official website
The new pokémon cards in this expansion are Sewaddle, Swadloon, Leavanny, Cottonee, Whimsicott, Virizion, Cubchoo, Beartic, Emolga, Sigilyph, Gothita, Gothorita, Gothitelle, Roggenrola, Boldore, Gigalith, Drilbur, Excadrill, Terrakion, Ferroseed, Ferrothorn, Cobalion, Rufflet, Braviary, Tornadus and Thundurus.
New item cards include Bianca, Cheren, Crushing Hammer, Great Ball, Max Potion, Pokémon Catcher and Recycle.
1 comment
---
By
FreezeWarp
on
August 25, 2011
Currently going through the VRGL to fix the many things I hadn't the time to before, so I figured it'd be good to get this out of the way now instead of later: if you have won a badge but it does not appear in the community tab of your profile or under your username in posts, please post here with the badge in question and things should be sorted out.
3 comments
---
By
Cat333Pokémon
on
August 19, 2011
Glitch City has been closed and soft deleted. Whether this is temporary or permanent has not yet been decided, but we believe that this may help us determine the necessity of this board. Posting your spam in other boards instead may result in infractions as per the site rules.
Edit
: Disputes in the poll counts compared to voters are due to changes of votes.
Votes changed:
PHANTOMxTRAINER: Leave it as an archive.
LiteTheIronMan: Toss in the Garbage board (visible to admins only).
Jenova: Vote retracted.
76 comments
---
By
AuraKshatriya
on
August 11, 2011
A scan of the upcoming issue of CoroCoro Magazine has revealed the first of the new EX-series cards, to be found in the
Psycho Drive
and
Hail Blizzard
expansions, with Mewtwo, as
Psycho Drive
's mascot. The new expansions feature the return of EX years after they were first introduced. They now have much higher HP, among other special attributes, compared to regular cards, in order to better compensate for Two Prize Cards being earned with their defeat. In addition, a new Stadium card,
Battle City
, is also shown in the scan, with the card itself being available as a promotional item with October's issue of the magazine. Whether the issue to come will also showcase a Kyurem-EX card is as of yet, unknown.
Source(s): [
BulbaNews
]
2 comments
---
Jump to Page:
1
2
3
4
5
6
7
8
9
10
11
12
13
14
15
16
17
18
19
20
21
22
23
24
25
26
27
28
29
30
31
32
33
34
35
36
37
38
39
40
41
42
43
44
45
46
47
48
49
50
51
52
53
54
55
56
57
58
59
60
61
62
63
64
65
66
67
68
69
70
71
72
73
74
75
76
77
78
79
80
81
82
83
Archived News
Old news up to August 20, 2009
---
vBulletin Viewer Version 1.7.0 Copyright © 2010 Joseph Parsons.
vBulletin © 2010 vBulletin Solutions. vBulletin™ is a registered trademark of vBulletin Solutions.
Recently Replied Topics
---