Floatzel.Net is being rebuilt!
Portions of this site will begin redirecting to the new one.


Skip to content:
News | Recently Replied Topics
News
---
By
AuraKshatriya
on
January 24, 2011
MCV Magazine has revealed information regarding an upcoming event for Pokemon Black and White in the UK. From March 4th to April 22nd, players will be able to download the Liberty Ticket event item, which allows one to encounter and battle a wild Victini in the games. Whether this will be a Wi-Fi or store-based event, as well as it's US date, have yet to be revealed.
Source(s): [
www.Serebii.net
]
3 comments
---
By
OMGITSJAD
on
January 24, 2011
A PR e-mail from The Pokémon Company International states:
Looks like there's a lot to come from Pokémon in 2011!
Source:
GoNintendo
4 comments
---
By
KingOfKYA
on
January 23, 2011
Shared Hosting has been updated. Please report any issues via support ticket or email me directly.
replace space with @
http://isp-control.net/news/news/ispcp-omega-1.0.7-release.html
14 comments
---
By
FreezeWarp
on
January 22, 2011
For those interested in getting the event Entei at the local Gamestop, be warned that you have until tomorrow (Sunday, January 23rd) to do so.
More Information:
/index2.php?page=thread&threadid=6630
4 comments
---
By
Yoshi648
on
January 22, 2011
The 13th Pokémon movie Zoroark: Master of Illusions will have it's U.S. TV premiere on February 5th at 7PM on Cartoon Network (to verify the time for your area, please visit the
TV Guide's website
). Since it is airing on the 5th, this will be the first showing of the movie since all but one of the stops on the
Pokémon Black and White Tour
are on later dates. A re-showing of the 11th movie Giratina and the Sky Warrior will be shown prior (5 PM) to the new movie (for those of you who like hearing Shaymin say "It's going to eat me!").
Source: Serebii
5 comments
---
By
Cat333Pokémon
on
January 21, 2011
The downtime from 9 PM to midnight Pacific (midnight to 3 AM Eastern) was actually scheduled several days in advance by HiVelocity (physical relocation of the server rack to a new facility). It was my fault for failing to inform everyone of this happening. From now on, I'll pass along any of these messages I receive from the host. I apologize for not informing you.
15 comments
---
By
AuraKshatriya
on
January 19, 2011
The dub title of the new Pokémon animé season has been revealed, via the Pokémon HeartGold and SoulSilver official website. The new series will simply be called "Pokémon Black and White", the names of the fifth generation games.
In Japan, it is called "Pokemon:Best Wishes", a play on the first initials of the games, as well as how the romaji for "Wishes" (roughly "U
isshu
s") resembles the Japanese name of the Unova Region, "Isshu".
Source(s): [
http://www.pokemongoldsilver.com/us/#/news/ashspikachu
]
1 comment
---
By
KingOfKYA
on
January 18, 2011
As you have been aware the last few weeks the I haven been making modifications to the server. That I am happy to report after the rough first day :). Everything is running better than we have ever had it. Load (Linux's way of measuring the work server is doing) is way down. To put in perspective load on victoryroad was 8-10 now its .26-1 huge gain. That was all fixed by locating mysql to the main server and not running it in a virtual pc.
In addition this effects victorybattles as well as victoryroad.
Also the shared hosting node has been given more ram to account for hight usage lately. It should also notice snapper page loads indirectly because of the mysql server move.
Hopefully No more downtime for a while
Cat333pokemon
14 comments
---
By
AuraKshatriya
on
January 17, 2011
It has been announced, through posters and fliers at the Jisedai World Hobby Fair Winter 2011, that Shogakukan will be featuring a new Pokemon manga series in its
Weekly Shonen Sunday
. The name of the manga is currently unknown, however, it will apparently be aimed at older audiences as opposed to the other Pokemon manga (such as
Pokemon Special
) which are typically seen as being aimed at children. This is quite rare, as almost all Pokemon-related merchandising is usually directed towards children, and marketing it expanded on from there. Previous manga series featured in
Shonen Sunday
include
Detective Conan
(
"Case Closed" in North America
), and
InuYasha
. The new Pokemon manga will begin serialization is March, and is meant to be an attempt at "expanding the market".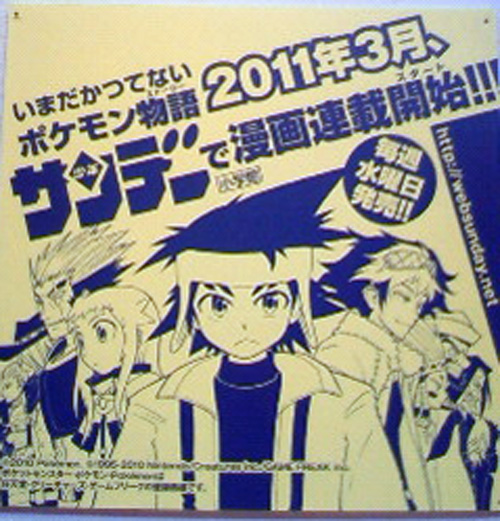 Source(s):
[
www.PokeBeach.com
]
[
http://www.animenewsnetwork.com/news/2011-01-16/new-pokemon-manga-to-run-in-shonen-sunday-mag-in-march
]
11 comments
---
By
TrdrsPokeTrader
on
January 14, 2011
The official site has updated with new details on a new Wifi event that will take place at the end of the month. To go along with next weeks B&W episode featuring Ash's Egg hatching, a Zuruggu is to be distributed over Wifi from January 28th to February 10th. This Zuruggu is Level 1 and is holding Muscle Band. They have also announced that the special fan designed Dream World house is now availiable for download in the Global Link until Valentine's Day. Also, from January 27th to March 30th, you will be able to download some special C Gear skins featuring Piplup and Croagunk to tie in with the upcoming Anime specials which feature Dawn and Brock.
Zuruggu:
Piplup C Gear:
Croagunk C Gear:
Source:
Serebii
3 comments
---
Jump to Page:
1
2
3
4
5
6
7
8
9
10
11
12
13
14
15
16
17
18
19
20
21
22
23
24
25
26
27
28
29
30
31
32
33
34
35
36
37
38
39
40
41
42
43
44
45
46
47
48
49
50
51
52
53
54
55
56
57
58
59
60
61
62
63
64
65
66
67
68
69
70
71
72
73
74
75
76
77
78
79
80
81
82
83
Archived News
Old news up to August 20, 2009
---
vBulletin Viewer Version 1.7.0 Copyright © 2010 Joseph Parsons.
vBulletin © 2010 vBulletin Solutions. vBulletin™ is a registered trademark of vBulletin Solutions.
Recently Replied Topics
---