Yes, I'm still alive. I've just been lazy to work on the new updates. Drop me an e-mail if you would like me to work harder. :)
If you are currently affiliated and are on this list, please keep the affiliation active until I update you with new information.
Updated April 21, 2015

Skip to content:
News | Recently Replied Topics
News
---
By
Yoshi648
on
October 12, 2010
A new Wi-Fi event for Pokemon HeartGold and SoulSilver is on it's way! This event will give you a Level 5 Mew
which only knows one move: Pound. It will come in a Cherish ball and will have a Premier Ribbon. The Wi-Fi event will be available October 15th (this Friday) and will end October 30th (Saturday). It is unknown if this Mew will also be available for download in Diamond/Pearl/Platinum. It is available for download to those in the US/Canada and Europe.
Source:
GoNintendo
28 comments
---
By
FW
on
October 9, 2010
Yea... so I've been kinda innactive lately but I am starting to work on my projects again. Here is the list and the approximate finish dates of each:


VictoryDex: Generation Five Pokémon (High Priority; Should be Finished Late-October or Early-November)
VictoryBattles RC1 (Medium Priority; Should be Finished Late-November)
VRGL Badge System Final (Low Priority; Should be Finished Late-October)
Crystal Islands Version 2 (Low Priority; Second Beta Mid-November)
I will update the status of each of these in this thread. Indeed, I am starting work on the VRGL Badge System right after I post this.
43 comments
---
By
Shadow
on
October 9, 2010
On November 20th in Japan, two new packages of Pokémon
Black
and
White
will be released. Included within each package is a copy of one of the games along with a Reshiram and Zekrom-themed DSi system. The DSi will either be black or white in colour, depending on the version you buy, and the title of the game you get will be engraved on its front. The package costs about $240, and it is still unknown whether it will be released outside Japan or not.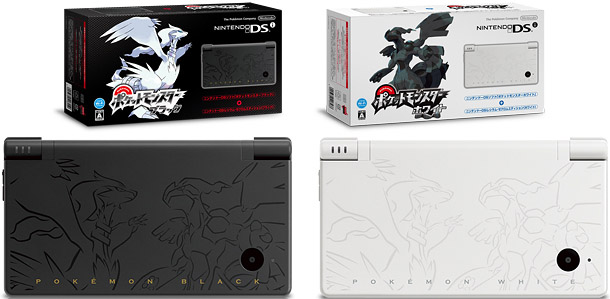 Source:
PokéBeach
11 comments
---
By
Shadow
on
October 6, 2010
Two people who went to Gamestop for placing pre-orders of Pokémon
Black
&
White
were told that the games would be released on
Friday April 22nd, 2011
in America, at a price of $40. It's interesting to note that the release date mentioned is the same as Pokémon
Diamond
and
Pearl
's, so it's most likely just a guess based around that. Also, the main Pokémon games are usually released on Sundays, which means that this is probably not the exact release date. However, it still gives us a good clue about the period within which the games will be released in America.
Source:
PokéBeach
30 comments
---
By
The Spirit of Time
on
October 5, 2010
The first movie of the Best Wishes series has got its own teaser trailer announced on the official Pokemon movie website. This trailer has been seen in Japan after the movie: The Ruler of Illusions: Zoroark. It is rumored that the movie will be released in Japanese theaters in July, 2011. It is assured though that Victini will be in the movie.
The movie website also announced that the movie: The Ruler of Illusions: Zoroark DVD will be released in Japan on December 17th.
Here is the trailer:
Source:
Pokébeach
10 comments
---
By
Shadow
on
September 30, 2010
Pokémon
Black
&
White
broke yet another record. Having sold
2.6 million units
in the first two days only, according to a report from Famitsu Magazine, they are now the best-selling Pokémon games in history. Taking the previous record of having 1 million pre-orders in Japan into consideration, this makes Pokémon
Black
&
White
both the fastest-
and
best-selling Pokémon games ever!
Source:
PokéBeach
12 comments
---
By
zsaberslash
on
September 29, 2010
A new Pokémon game was announced today:
Battle & Get! Pokémon Typing DS
. From what is known it's a typing game similar to Mario Teaches Typing. It's set for release in Japan in 2011. The developers are Genius Sonority who also did Colosseum, XD and Battle Revolution.
Also the Dream World has been updated. It's planned to be back up by the week of October 11th. Additionally, the use has been limited to anyone with a game synced with the system. They'll also be limiting access to an hour per day.
Source:
Serebii
14 comments
---
By
RotomGuy
on
September 29, 2010
3DS will be released in Japan on the 26th of Febuary 2011. A month later, the English release. This is on March 2011. The exact date is unknown. Plus, a new 3DS game is coming out. It is called Battle & Get. It is aimed at a younger audiance and will teach romanization for Japanese to English. You are a charecter walking along a path capturing pokemon. As you type in the letters in English, the pokemon becomes captured. It is going to be released in Japan in 2011 like the 3DS, and it will probaly not be released anywhere else. Gen V will be in it.
1 comment
---
By
Pokémon Master
on
September 27, 2010
The official Pokémon Japan website has announced that Pokémon will be at an annual Kyoto festival for college and university students.
Not all details are known at this time. The announcement states that more details will be revealed on Friday, October 1. This will probably announce more universities and what the Pokémon might be.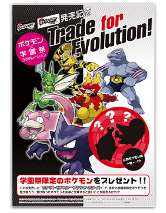 To celebrate the release of Pokémon Black and White, attendees are invited to bring the DS and Pokémon games to trade and battle other players on October 10, 2010. They can also receive one of the event Pokémon being distributed.
Source:
http://www.pokemon-sp.jp/news-sp/2010/09/0924_01.html
5 comments
---
By
Cat333Pokémon
on
September 26, 2010
If you have notifications enabled and have checked your inbox today, you may have noticed some messages from Victory Road. It took us quite a while because we weren't quite sure how to get it working again, but e-mail is finally fixed. We'll be issuing the standard Victory Road newsletter again in a few days both as a way to catch folks up and to remind other members of their registration. This also means that contact form at the bottom will work correctly again.
If you are having trouble with the e-mail being marked as spam/bulk, please add
noreply@victoryroad.net
to your address book. Remember that this e-mail address doesn't handle replies, so don't send questions to it.
If you wish to opt out of thread subscription notifications, don't mark the messages as spam. Instead, go to the User CP, then choose
Edit Options
. In the second category is an option with the heading "Default Thread Subscription Mode" with a dropdown box. Set that to "No email notification" and click Save Changes. Then go to List Subscriptions. If you want to disable all notifications from all threads, click Empty Current Folder. You can also manually click the box at the top of the rest of the checkboxes, choose "No email notification," then click Go for every page if you still want to see your subscriptions on Victory Road.
Edit: There is a issue with comcast and roadrunner email.
Edit: Emails all working
6 comments
---
Jump to Page:
1
2
3
4
5
6
7
8
9
10
11
12
13
14
15
16
17
18
19
20
21
22
23
24
25
26
27
28
29
30
31
32
33
34
35
36
37
38
39
40
41
42
43
44
45
46
47
48
49
50
51
52
53
54
55
56
57
58
59
60
61
62
63
64
65
66
67
68
69
70
71
72
73
74
75
76
77
78
79
80
Archived News
Old news up to August 20, 2009
---
vBulletin Viewer Version 1.7.0 Copyright © 2010 Joseph Parsons.
vBulletin © 2010 vBulletin Solutions. vBulletin™ is a registered trademark of vBulletin solutions.
Recently Replied Topics
---