Floatzel.Net is being rebuilt!
Portions of this site will begin redirecting to the new one.


Skip to content:
News | Recently Replied Topics
News
---
By

Magmaster12

on

November 29, 2010

As seen with the ending trailer from the last movie we now have confirmation of the title for the first Best Wishes movie.

'

ビクティニと黒き英雄

' '

Bikutini to Guroki Eiyuu

' '

Victini and the Dark Ruler

'

Source:

http://www.pokemon-movie.jp/
23 comments
---
By
AuraKshatriya
on
November 28, 2010
Starting tomorrow, November 29th, 2010, until January 31st of next year, players of Pokemon Black and White will be able to unlock a special wallpaper for the C-Gear sporting a design of the Pokemon Choroneko by Shoko Nakagawa, a host of Pokemon Smash, whose design garnered the most votes out of all the designs by the show`s hosts. Additionally, starting on December 24th and also ending on January 31st, a C-Gear Wallpaper featuring Tabunne and furniture for the Dream World will also be available, with fliers with passwords for the aformentioned Tabunne and furniture being available at Pokemon Centers starting on December 25th.
Below is a picture of all the "entries" to this contest drawn by the hosts of Pokemon Sunday:
Source(s):
[
http://www.tv-tokyo.co.jp/contents/pokemon_smash/special/cgia/index.html
]
[
http://www.pokemon-sp.jp/news-sp/2010/11/1105_02.html?i001=news
]
[
http://www.pokemon-sp.jp/news-sp/2010/11/1126_02.html?i001=news
]
[
http://bulbanews.bulbagarden.net/wiki/More_things_to_be_obtainable_on_Global_Link
]
7 comments
---
By
FreezeWarp
on
November 26, 2010
Extra Free Time
- Thanksgiving Break (Thursday, November 25th - Friday, November 26th)
- Christmas Break (Wednesday, December 22nd - Friday, December 31st)
Homework Status
- Most of Sunday, November 28th will be spent on homework.
- To be updated.
Projects
- VictoryBattles Beta 4 (Highest Priority)
- VictoryDex Beta 3 (Medium Priority)
-
Custom Styles
(Low Priority)
- Gym Badges in Postbit and Other VRGL Improvements (Low Priority)
I'm currently hoping to get VictoryBattles Beta 4 out as soon as possible, though I'm not sure if I'll be able to get it out at all before Christmas Break. After that I should be able to get a lot done in finalizing the dex. Both should be quite stable when released if everything goes according to plan.
7 comments
---
By
Cat333Pokémon
on
November 25, 2010
I'd like to start off by wishing everyone, even those who don't celebrate it or those who already celebrated it, a happy Thanksgiving Day. To most of us, Thanksgiving is a time when we gather with our family and friends and be thankful for what has been given to us. Many Americans celebrate this day by watching the annual parade, followed by cheering on the football teams, and then gathering around the table for a feast that typically revolves around turkey.
To me and many others here, Thanksgiving is a time that we must also be thankful for our many friends, including all of the members here on Victory Road. As much as it may seem redundant, I truly am thankful to administrate a site like this with many awesome friends. It's been an amazing two and a half years, and I think we've come very far, and we've done a lot. And it's all thanks to you. Thank you very much, everybody, for spending your time and posts with us here! :)
ありがとう~
26 comments
---
By
Cat333Pokémon
on
November 24, 2010
In the Macy's Thanksgiving Day Parade 2010, which is an annual parade that takes place in New York City, there will be an extra Pokémon Black and White surprise, in addition to the usual Pikachu & Poké Ball balloon. Stated on the official parade site as a "specialty unit,"
Reshiram and Zekrom
will appear in the parade. (There is a typo on the lineup that spells Reshiram as "Reshriam" instead.)
Sources:
Macy's Thanksgiving Day Parade 2010 Lineup
Two New Pokemon Joining Pikachu Balloon in Macy's Thanksgiving Day Parade - Marketwire
50 comments
---
By
AuraKshatriya
on
November 22, 2010
Pokemon.com has finally revealed the North American names for the 3 starter Pokemon of Pokemon Black and White, as well as the region in the games. Tsutarja, the grass type Pokemon, is called
Snivy
, a portmanteau of Snake and Ivy. Pokabu, the Fire-Type starter is known as
Tepig
, a combination of Tepid and Pig, and finally, the Water-Type starter, Mijumaru, is to be called
Oshawott
, which seems to be a combination of either the name of the city "Oshawa", in Toronto, Canada, or "Ocean", with "Water", and "Otter". Additionally, for the first time in Pokemon`s history, the name of the region in a mainstream game has been changed. The region found in Pokemon Black and White, Isshu, will be known to international audiences as
Unova
, which seems to be a play on the word "Unknown", referencing how the Isshu (Unova) Region is farther away from any of the previously introduced regions than they are from each other. Additionally, the North American names for the abilities and Species Names of Reshiram and Zekrom have been revealed. Reshiram`s ability is still called "
Turboblaze
", and it is now known as the
Vast White Pokemon
(originally being the "White Yang" Pokemon). Zekrom`s ability`s name has been changed to "
Teravolt
" from "Teravoltage", and it will now be known as the
Deep Black Pokemon
(originally being called the "Black Yin Pokemon")
Snivy
Tepig
Oshawott
Source(s): [
http://www.pokemonblackwhite.com/en-us/the-starter-pokemon/]
48 comments
---
By
Cat333Pokémon
on
November 21, 2010
As you may or may not have noticed, VR has been having all sorts of errors over the past month. The chat has been kicking people off repeatedly due to dropped connections. Pages wouldn't load without reason.
Well, I finally found the cause. If you ever peeked at the VictoryBattles board, you may have noticed that there have always been at least ten people looking at it at any given time. Well, here's what happened:
When we closed down the Floatzel Pokédoptables, I created a very simple redirect script that sent all traffic over to the
Floatzel Migration thread
. It literally sent every single request to a file in that folder to the thread...
including all of the embedded adoptables
. People typically had 5 adoptables in their signatures on other forums. On popular threads, said people could get in a little posting exchange and there could easily be 20-30 adoptables in a single page. If it's a commonly-viewed page on that forum, notably the first page of a news thread, it could get hit hundreds of times. Even though it only loads the HTML document and none of the images, that is a lot of views. Every time it loads, the server has to put together the PHP scripting for the migration thread. (Well, caching might make it do that less.)
The thread is 256 KB (262,733 bytes) right now, and it has averaged that for some time...
A given page loads 20-30 adoptables at a time...
That page gets hundreds of hits...
All for a little bad-image X in someone's signature.
As of now,
the thread
has 1,121,538 views, which you
can see here
. Every one of those views was 256 KB or less. Accounting for people who didn't let all of them load, that's 250 GB of bandwidth and well over a million times the server had to put the page together and quite a few million MySQL queries.
Thank you, FreezeWarp, for fixing up the .htaccess script to properly redirect all the image calls. Instead of that massive thead code, this small (840 bytes) image I whipped up is called:
14 comments
---
By
FreezeWarp
on
November 20, 2010
For about the past week email functionality has been mostly broken. This was almost entirely my fault; early Cat and myself were working on something that involved changing the mime type from "text/plain" to "text/html". When reverting this, instead of setting it back to "text/plain" I had a very smelly case of brain flatulence and instead wrote "text/php"... regardless, things are fixed now; thanks for bearing with us.
6 comments
---
By
AuraKshatriya
on
November 20, 2010
Artwork of nearly all Generation V Pokemon has been revealed via the Pokemon Daisuki Club, the only ones remaining being all event Pokemon and Hihidaruma in it`s Daruma Mode. Below are a few select few Pokemon, specifically the members of two Legendary Trios present in Pokemon Black and White. As a result, spoilers are obviously present, a reason for which the pictures will be placed in a spoiler box:
For a full list of all the Pokemon Black and White artwork revealed thus far, follow the link below: (
note that this also contains enormous spoilers as well, obviously
)
http://bulbanews.bulbagarden.net/wiki/Sugimori_art_of_Generation_V_Pok%C3%A9mon_revealed
Source(s): [bulbanews.bulbagarden.net] [pokebeach.com]
18 comments
---
By
AuraKshatriya
on
November 19, 2010
After months of anticipation following the unveiling of Zekrom and Reshiram to the world, three more "brand new" Pokemon will be revealed to players outside of Japan this Monday, on Pokemon.com
The Pokemon in question are the starter Pokemon available to players in Pokemon Black and Pokemon White, Tsutarja, Mijumaru, and Pokabu.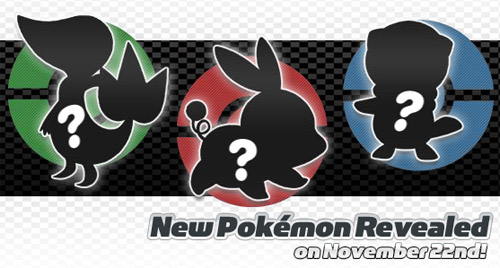 Source(s):[Pokemon.com]
21 comments
---
Jump to Page:
1
2
3
4
5
6
7
8
9
10
11
12
13
14
15
16
17
18
19
20
21
22
23
24
25
26
27
28
29
30
31
32
33
34
35
36
37
38
39
40
41
42
43
44
45
46
47
48
49
50
51
52
53
54
55
56
57
58
59
60
61
62
63
64
65
66
67
68
69
70
71
72
73
74
75
76
77
78
79
80
81
82
83
Archived News
Old news up to August 20, 2009
---
vBulletin Viewer Version 1.7.0 Copyright © 2010 Joseph Parsons.
vBulletin © 2010 vBulletin Solutions. vBulletin™ is a registered trademark of vBulletin Solutions.
Recently Replied Topics
---