Floatzel.Net is being rebuilt!
Portions of this site will begin redirecting to the new one.


Skip to content:
News | Recently Replied Topics
News
---
By
Cat333Pokémon
on
January 12, 2010
The new affiliate is Guarded Dreams:
This site has some imagery and videos for a variety of Pokémon games, a forum, and adoptables.
3 comments
---
By
Ningamer
on
January 12, 2010
Pokémon Heart Gold and Soul Silver owners, grab your DSes! From 13th January to 27th January you can download the latest Pokéwalker area - The Champ Path. This area has 6 Pokémon to catch, all at level 5, but each with a special move. Here's a list:
Beldum - Zen Headbutt
Munchlax - Selfdestruct
Horsea - Muddy Water
Duskull - Imprison
Magikarp - Bounce
Bronzor - Trick Room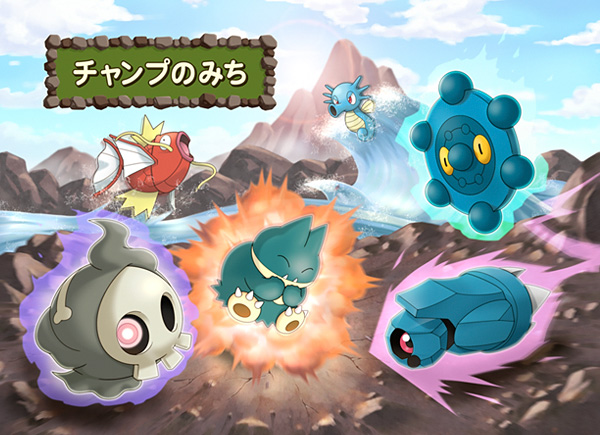 Source:
Serebii.net
1 comment
---
By
Cat333Pokémon
on
January 11, 2010
Pokémon.com
, the official website from The Pokémon Company International, has updated with a drastically different layout from before. Now it takes on a nice 3-dimensional appears and features new content for Pokémon Rumble, Pokémon Mystery Dungeon: Explorers of Sky, and Pokémon HeartGold & SoulSilver. Here are some of the new features:
The
official Pokémon TCG website
has also merged into the main website. Currently, there is information regarding Pokémon Trading Card Game: HeartGold and SoulSilver.
This website has regional information for these countries:
Argentina
Australia
Austria
Belgium
Brazil
Canada
Chile
Czech Republic
Denmark
Finland
France
Germany
Greece
Hong Kong
Italy
Japan
Malta
Netherlands
Norway
Poland
Portugal
Spain
Sweden
Switzerland
United Kingdom
[*]United States
Source:
Welcome to the new Pokémon.com!
10 comments
---
By
neomew
on
January 11, 2010
NEW POKÉWALKER ACCESSORY LETS PLAYERS BRING THE FUN OF POKÉMON WHEREVER THEY GO
Jan. 11, 2010
For more than a decade, millions of Pokémon™ fans around the world have enjoyed training their Pokémon within their video games. The March 14 release of the Pokémon™ HeartGold Version and Pokémon SoulSilver Version games lets players continue to enjoy the world of Pokémon away from their Nintendo DS™ or Nintendo DSi™ systems, taking their favorite Pokémon with them wherever they go with the new Pokéwalker™ accessory. This new accessory will come included with each copy of these games.
In Pokémon HeartGold and SoulSilver Versions, players can wirelessly transfer any one of their Pokémon from one of the two games to the Pokéwalker and walk them through virtual routes as the player walks around in real life. By walking, players earn Watts, which are used within the Pokéwalker to encounter and catch wild Pokémon or search for hidden items, and can be transferred into Pokémon HeartGold and SoulSilver Versions to unlock new routes. There are even special versions of certain Pokémon that can only be found within routes on the Pokéwalker, giving players added incentive to keep their Pokémon with them wherever they go. The Pokémon in the Pokéwalker will gain experience points as the player walks, and can even go up one level when they are transferred back into the game. Players also can wirelessly connect two Pokéwalkers to trade items.
Letting players return to the beloved Johto region first introduced in Pokémon Gold Version and Silver Version for the portable Game Boy™ system, Pokémon HeartGold and SoulSilver Versions introduce several new enhancements for the series that enrich these timeless adventures. Created exclusively for the Nintendo DS and Nintendo DSi systems, the games feature detailed graphics that spotlight the unique environments and hundreds of Pokémon that players can encounter and catch. Players can even see and interact with their favorite Pokémon outside of battle, selecting one from their team to follow behind their Trainer as they travel through the Johto region. The games also include robust touch-screen functionality, allowing for smoother control and seamless navigation by the player.
For more information about Pokémon HeartGold and SoulSilver Versions, please visit
www.pokemon.com
. For more information about Nintendo, please visit
www.nintendo.com
.
2 comments
---
By
Cat333Pokémon
on
January 10, 2010
Powered by
FeedBurner
, I have setup a new e-mail subscription feed. It takes the content of Announcements, Affiliates, News & Updates, Tournaments, and PokéNews, and compresses it into a daily digest of Victory Road updates! This subscription is entirely free and as easy as confirming your e-mail address.
To subscribe:


Click this link: Subscribe to Victory Road Daily E-mail Newsletter
Enter your e-mail address in the top box and answer the CAPTCHA below to confirm you are human. Then click Complete Subscription Request.
[*]Click (or copy/paste) the link you receive in your e-mail.
And that's it! You'll receive updates daily.
If you wish to unsubscribe, follow the directions in the e-mail.
7 comments
---
By
EricThePelipper
on
January 10, 2010
Pokemon Sunday aired like usual in Japan early Sunday mornings. I happened to miss the episode due to bad grades, but PokeBeach has reported that New Cards have been revealed. These cards are new cards for the "Revived Legends" Set. These cards have 2 Pokemon on each card giving it two types and two weaknesses. The Pokemon are Entei & Raikou, Entei & Suicune, Raikou & Suicune. The cards are similar to the half cards for LEGEND Lugia & Ho-Oh, which needed two card halves to work.
Full image size:
LEGEND cards of "Revived Legends" TCG Set
Source:
PokeBeach
*Credits to PokeBeach for images and info.
3 comments
---
By
Yoshi648
on
January 10, 2010
Serebii.net has posted with information from a trusted source saying that two new event Pokémon will be coming to the U.S. for Diamond, Pearl and Platinum. The first one is the Pikachu-colored Pichu that will be given out near the end of the month. This Pichu when transfered over to HeartGold/SoulSilver will allow you to get the Spiky-eared Pichu in Ilex Forest. The second event is for a special Jirachi at the end of February. This Jirachi will unlock a special course for the PokéWalker called Edge of the Nights Sky. Again, these are not 100% confirmed but are still likely due to the release of HGSS in March.
Source: Serebii
UPDATE: Serebii has confirmed that the Pikachu-colored Pichu will be available in the US. It can be downloaded January 30th to Feburary 14th at GameStop. This Pichu can be downloaded to Diamond Pearl and Platinum. The Jirachi will also be available at GameStop at a later date.
18 comments
---
By
Cat333Pokémon
on
January 8, 2010
Two new affiliates:
Eonlight Valley
and Evoly. (The second one is down right now due to changing of a few things.)
No comments
---
By
Cat333Pokémon
on
January 7, 2010
The new intro in Japan is titled 「サイコー・エブリデイ!」 or "The Greatest Everyday". Here is the full intro (WARNING: Contains spoilers about upcoming events):
The intro also contains nearly all of the legendaries.
6 comments
---
By
on
January 6, 2010
3 comments
---
Jump to Page:
1
2
3
4
5
6
7
8
9
10
11
12
13
14
15
16
17
18
19
20
21
22
23
24
25
26
27
28
29
30
31
32
33
34
35
36
37
38
39
40
41
42
43
44
45
46
47
48
49
50
51
52
53
54
55
56
57
58
59
60
61
62
63
64
65
66
67
68
69
70
71
72
73
74
75
76
77
78
79
80
81
82
83
Archived News
Old news up to August 20, 2009
---
vBulletin Viewer Version 1.7.0 Copyright © 2010 Joseph Parsons.
vBulletin © 2010 vBulletin Solutions. vBulletin™ is a registered trademark of vBulletin Solutions.
Recently Replied Topics
---