UPDATING
Floatzel.Net is in its final phase of modifications. Once the updates are complete, they will be published to the site. Please see this news article for more details.
If you are currently affiliated and are on this list, please keep the affiliation active until I update you with new information.
Updated February 2, 2014

Skip to content:
News | Recently Replied Topics
News
---
By
Cat333Pokémon
on
June 10, 2014
A new official trailer has been released for Pokémon Omega Ruby and Alpha Sapphire, showing off the similar graphics to Pokémon X/Y, the starters' new mega evolutions, and an introduction not too dissimilar to an original trailer for Pokémon Ruby and Sapphire.
In addition, the release date was confirmed as Friday, November 21, 2014.
12 comments
---
By
Cat333Pokémon
on
May 19, 2014
Until now, the "Pokémon Team" listing on profiles has only had Pokémon up to Gen V listed (mostly because I forgot to update it). It now has Gen VI Pokémon in the lists.
1 comment
---
By
GrassPokemonFTW
on
May 7, 2014
Recently revealed were the 3DS remakes for Pokémon Ruby and Sapphire, Pokémon
Omega Ruby
and
Alpha Sapphire
. These games are planned for release in November 2014. Like Pokémon X and Y, these games will be released worldwide simultaneously.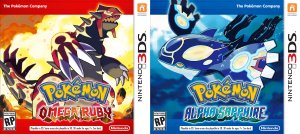 A trailer has been released at
Pokemon.com
revealing the boxart and approximate release date. The cover Pokemon are Groudon and Kyogre, as expected. Though they do look slightly different...Mega Evolutions, perhaps?
Discuss.
Sources: Pokemon.com,
Serebii.net
55 comments
---
By
Cat333Pokémon
on
April 29, 2014
This June, a new title is coming to the 3DS in Japan and America, called
Pokémon Art Academy
(ポケモンアートアカデミー). The software is dubbed as a drawing step-by-step drawing utility (using the term
oekaki
in Japan) to learn how to draw Pokémon. Here are a few samples created using the software.
Check out the site for more.
Sources:
Mini site by Nintendo Japan
Sample art
More sample art
Announcement for USA
Mini site by Nintendo of America
[span="display: none;"][ATTACH]6150[/ATTACH][ATTACH]6151[/ATTACH][ATTACH]6152[/ATTACH][/span]
7 comments
---
By
Cat333Pokémon
on
April 1, 2014
After many years, my old domain, Buizel.Net, has returned as a URL shortening service, much in the same vein as services like TinyURL and Bitly. What sets mine apart is the unique ability to preview the contents of the site without needing to visit it, saving you the trouble of loading massive pages only to be greeted with a small image or with a long advertisement before a video. The service scans the linked page for prominent media files and proxies them directly to you for speedy access. I've also added it atop the forum for the time being to get folks to try it out. :)
I cannot guarantee that the service always works properly, of course, and there's always a chance for something to go wrong. At the moment, an HTML5-compatible browser with MPEG-4/H.264 and MP3 capabilities is required to enjoy most features of the service.
Check out its ability to work with YouTube videos (be sure to watch it all the way through):
http://buizel.net/foxsaysmoo
Reply with your best links created through the service! I'd love to hear your feedback. :D
http://buizel.net/
7 comments
---
By
Cat333Pokémon
on
March 17, 2014
We have completed another server move for the first time in several years. While I gradually go about fixing things up, please use this thread to report anything broken on Victory Road or any of its satellite websites. If something is broken such that it causes a security problem, please send me a PM instead.
14 comments
---
By
Cat333Pokémon
on
March 9, 2014
With the dwindling revenue from the advertisements, I decided it would be in my best interest to remove all ads for all registered members with verified e-mail addresses, regardless of number of posts. This includes the persistent banner ad that was previously shown at the bottom of the page.
Enjoy an ad-free Victory Road!
3 comments
---
By
Cat333Pokémon
on
March 9, 2014
That's right, it's that time again. The Victory Road Network (Victory Road, Floatzel.Net, VRAC, and Pokékaki) will be moving to a new web host within the next two weeks, starting somewhere around March 17th. Unlike previous moves, we are scaling down to a server with fewer resources. As much as I appreciate the service HiVelocity has provided, their services simply are on a higher tier than what I require.
If anyone from HiVelocity does happen to read this, thank you for your years of great service. I will be sure to recommend you for anyone requiring a quality dedicated server.
For the ex-users of VRIM
While I have fully closed down public access to VRIM in July 2012 and phased it out into 2013, the database is still up. This will change prior to the server move, and I will finally completely erase it from the server. (I will keep a backup of the public rooms.) If anyone would like to request private message or private room logs, please send me a PM on or before March 14. If you wait any longer, I may not be able to recover the messages.
22 comments
---
By
Cat333Pokémon
on
February 13, 2014
In today's Nintendo Direct, Iwata announced a new sequel to Pokémon Trozei!, which released outside of Japan in 2006 on the Nintendo DS. This sequel, titled
Pokémon Battle Trozei
, will be available on the eShop for $7.99 within the United States in March and will feature all 718 Pokémon. In Europe, the game will be known as
Pokémon Link: Battle!
.
Nintendo's official video can be viewed
here
.
Source:
Nintendo Direct
6 comments
---
By
GrassPokemonFTW
on
February 11, 2014
Due to GTS leaks beforehand, we were already aware of the Gen VI event legends, Diancie, Hoopa, and Volcanion. The first of the three has been officially revealed in a recent release of the newest issue of CoroCoro magazine; Diancie.
To reiterate points that may or may not already be known:
Diancie
is a
Rock/Fairy
-type Pokémon. It is classified as the
Jewel Pokémon
and is Pokémon
#719
in the Pokédex. The description next to Diancie's official Sugimori art reads: "In battle, it creates a bunch of diamonds from both of its hands to protect itself."
Diancie has also been revealed to star in the next Pokémon movie, which has subsequently been given the full title
The Cocoon of Destruction and Diancie.
This movie has already been confirmed to feature the Kalos legends Xerneas and Yveltal, along with a number of Mega Evolutions.
As of yet, there is no information revolving around Diancie's distribution.
Below is the official Sugimori art of Diancie (left) and the new, official title of the upcoming movie (right).
Source:
Serebii.net
13 comments
---
Jump to Page: 1
2
3
4
5
6
7
8
9
10
11
12
13
14
15
16
17
18
19
20
21
22
23
24
25
26
27
28
29
30
31
32
33
34
35
36
37
38
39
40
41
42
43
44
45
46
47
48
49
50
51
52
53
54
55
56
57
58
59
60
61
62
63
64
65
66
67
68
69
70
71
72
73
74
75
76
77
78
79
Archived News
Old news up to August 20, 2009
---
vBulletin Viewer Version 1.7.0 Copyright © 2010 Joseph Parsons.
vBulletin © 2010 vBulletin Solutions. vBulletin™ is a registered trademark of vBulletin solutions.
Currently unavailable
Recently Replied Topics
---