Floatzel.Net is being rebuilt!
Portions of this site will begin redirecting to the new one.


Skip to content:
News | Recently Replied Topics
News
---
By
AuraKshatriya
on
July 13, 2011
The previously announced Dream World expansion, not revealed to be titled
Pokémon Movie
, has been released today for players of Japanese copies of Pokémon Black and Pokemon White, and will be available until October 4th of this year. Depositing either Reshiram or Zekrom will allow you to challenge Victini to a game and earn either a Reshiram or Zekrom C-Gear, depending on which was deposited.
[
Serebii.net
]
1 comment
---
By
Ningamer
on
July 12, 2011
NOTE: These methods are only being
tested
, and may be changed an tweaked to work better.
You may have noticed that in the last few days some members on Victory Road have had their avatars and signatures taken away, and their usergroup changed to "purgatory". This is part of a new method of enforcing the rules more efficiently that the staff are testing:
Infraction Points now have a purpose. In case you don't know, whenever a rule is broken and a moderator deems it worthy of an infraction, an infraction is given out with a number of points tied to it; The more serious the offence the more points (From 0 points to 4 points, with a moderator being able to give more points should he/she feel the offence is more serious). Once a certain amount of time has passed, these points expire and no longer count towards your total amount of active infraction points.
The new system that has been put in place works around infractions and infraction points. Should your total amount of active infraction points reach 2 or more points you will be put in purgatory, where many privileges are taken away (Such as avatars and signatures) and all your posts must first be moderated before they appear on the forums. Moderated posts are still subject to the rules, so if any violations are made within these posts, you may still receive an infraction.
When enough of your points expire to take you below 2 active infraction points your account will become a regular account again.
Should your total amount of active infraction points reach or exceed 5 points you will be banned from Victory Road. As with purgatory, when enough points expire to take you below 5 active infraction points you will be unbanned and put into purgatory or become a regular user again, depending on the amount of active infraction points you still have left.
We hope this new method of dealing with troublemakers will make Victory Road a nicer and friendlier place! Please post any questions or comments below.
78 comments
---
By
KingOfKYA
on
July 6, 2011
So hear is the deal:
I have setup WordPress and allowed registration. Now for now consider it a beta that may be removed at a later time. However if there is interest it will stay running. I am just trying to gauge the interest in Vblogs. We will also need a few themes done but not quit yet if anyone wants to do that let me know.
Reg here.
vrblog.org
Comments Please.
Edit:
Also you get a URL like
http://kingofkya.vrblog.org/
What is wordpress? Esentally MSword interface for a webpage(s).
From WP
25 comments
---
By
Team Fail
on
July 6, 2011
Pokémon Say, Tap (ポケモン言えTAP) is being released on the iPhone and Android, as well as other various platforms for free. It is rhythm-based game based on the ever-popular Pokémon TCG, and uses songs from the Pokémon Best Wishes anime, such as the credits theme, "Can you name that Pokémon?"
The game is scheduled for a summer release in Japan, and has yet to be announced elsewhere.
Sources: [
http://serebii.net]
[
http://kotaku.com/5818044/here-it-is-an-official-pokmon-app
]
10 comments
---
By
AuraKshatriya
on
July 2, 2011
A new mini-game has been revealed to be playable in the upcoming Dream World Isle based off of Eind Oak, from the 14th Pokémon movies. It features Victini, who players control as it flies through the sky, destroying approaching obstacles. Completing this mini-game is necessary in order to obtain the previously announced Reshiram or Zekrom C-Gear Skin(s).
Source(s):[
http://www.serebii.net
]
2 comments
---
By
AuraKshatriya
on
June 30, 2011
The Pokémon Dream World has been updated after a 24-hour maintenance period. The number of rows for planting berries has been increased to five, and the amount of Dream Pals one may have has been doubled from 10 to 20. An upcoming maintenance period, scheduled for July 12th, will also add the Global Battle Union Season 1 rankings. Whether any more new features or upgrades will be introduced with the said maintenance period is, as of yet, unknown.
Source(s): [
Serebii.net
]
4 comments
---
By
KingOfKYA
on
June 25, 2011
Basically I am moving sites off the Virtual Machines aka: VPS to the main server. Cuts about 10-30ms of lag, which does add up. VictoryRoad will be last to move as it has a email server and ssl that has to be moved as well.
Sites moved/moveing:
Moved:
floatzel.net
pokekaki.com
victoryroad.net
mail.victoryroad.net
vrim.victoryroad.net / CHAT
victorybattles.net
dex.victoryrorad.net
Moving Now:
Planned:
AND YES THINGS WILL GO FASTER
NOTES:
arcade has php errors which stop it from running with errors on.
6 comments
---
By
AuraKshatriya
on
June 24, 2011
In commemoration of the upcoming simultaneous releases of both 14th Pokémon movies, two new C-Gear skins will be available to download for Japanese players, beginning on July 13th, and ending on October 4th of this year. The skins feature Zekrom and Reshiram, respectively. However, the skin you are able to obtain depends on which Pokémon you first put to sleep and bring to the Eind Oak Dream Island. A Victini Poké Doll is also being made available in commemoration for the aformentioned theatrical releases, however, it will require a password to be obtained.
Source(s): [
Official Japanese Global Link Page
]
3 comments
---
By
DashArmy
on
June 21, 2011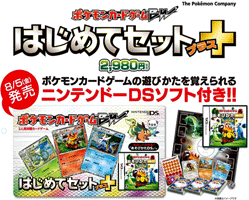 Due August 5th, the cards from the Black & White Boy and Girl starter kits will be re-released in a package called "BW Starter Set Plus", with a Nintendo DS game to help simulate the Trading Card Game, titled "Pokemon Card Game: How to Play DS."
Source:
Serebii
,
Pokebeach


It teaches the player how to play in 9 lessons.
You can pick from Serperior, Emboar, or Samurott decks and have free battles with five different characters, each with their own decks.
The player will also be quizzed on the rules
A rule dictionary is included in the software as well
A TCG tutorial can be sent to other Nintendo DS systems via DS Download Play
3 comments
---
By
Cat333Pokémon
on
June 19, 2011
As you may be able to tell, the server has been under maintenance. It appears like the network configuration has been incorrectly setup, so KingOfKYA and the HiVelocity techs are currently working to fix it up. Please be patient during this time.
Thank you.
4 comments
---
Jump to Page:
1
2
3
4
5
6
7
8
9
10
11
12
13
14
15
16
17
18
19
20
21
22
23
24
25
26
27
28
29
30
31
32
33
34
35
36
37
38
39
40
41
42
43
44
45
46
47
48
49
50
51
52
53
54
55
56
57
58
59
60
61
62
63
64
65
66
67
68
69
70
71
72
73
74
75
76
77
78
79
80
81
82
83
Archived News
Old news up to August 20, 2009
---
vBulletin Viewer Version 1.7.0 Copyright © 2010 Joseph Parsons.
vBulletin © 2010 vBulletin Solutions. vBulletin™ is a registered trademark of vBulletin Solutions.
Recently Replied Topics
---