Floatzel.Net is being rebuilt!
Portions of this site will begin redirecting to the new one.


Skip to content:
News | Recently Replied Topics
News
---
By
FreezeWarp
on
July 2, 2010
I would like to remind all members that abuse of any BB Code is strictly prohibited anywhere in the forum (with the exception of spam threads dedicated to abusing BB Code: who can't like those?). Please do not abuse BB code in signatures, threads, etc, or it may result in an infraction and/or banning.
What Constitutes Abused BB Code
BB-Code is most easily abused with the [noparse][/noparse] tags. This makes it possible to obstruct other parts of the forum with much ease. It can also be abused with the [noparse][table][/table][/noparse] BB-code, [noparse][fix][/fix][/noparse] BB-code, [noparse] and [/noparse] BB codes, etc.
How Do I Know?
If you are using BB code in a way that you want people to be annoyed, you are most likely abusing it.
And, of-course, exceptions can always be made, but just as a general rule of thumb, don't do it.
12 comments
---
By
James
on
July 2, 2010
The Official Japanese Pokémon website has updated with information on the Pokémon Black and White Tour. It is held in Japan and gives Pokémon gamers the chance to play Black and White before it is released. The tour starts on
August 7th
and ends on
September 12th
.
Stay Tuned For More Information On The Pokémon Black and White Tour!
Translation Credit :
Google Translate
8 comments
---
By
CloneCharizard
on
July 2, 2010
A new trailer for Pokémon Movie 13 - Ruler of Illusions: Zoroark has been revealed.
This has come to be quite a shock as we are only 7 days away from the movie being released in Japanese cinemas. (The release is July 10th)
4 comments
---
By
zsaberslash
on
July 1, 2010
Alongside this weeks anime episode in Japan was a trailer for the next movie. This trailer also revealed the title for the next season: Pocket Monsters: Best Wishes. In addition, 2 character silhouettes were shown.
In addition, we have this character model sketch that reveals some new monsters: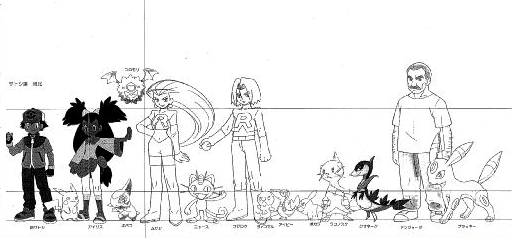 We can see two new Pokémon standing next to Jessie and the evolved forms of Tsutarja and Mijumaru. It is unclear if they will be 2nd or 3rd forms of their evolution. I would guess that is their second form considering their size compared to Umbreon.
Source: Bulbanews
Bulbapedia
Serebii
15 comments
---
By
The Spirit of Time
on
June 29, 2010
Ash's Pikachu is going to be given through Wi-Fi to all generation IV games in Japan. The details and the ending date are still unknown, but ti will start on July 15th, 2010.
Source:
Serebii
25 comments
---
By
James
on
June 28, 2010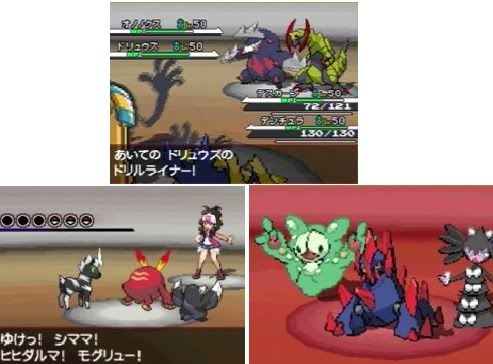 The Japanese TV Show : "
Oha Suta
" has provided us with brand new information on Pokémon Black and White. They have showed us 8 new Pokémon but has only given us names for 5 of them. Make sure to visit the video below for a wider perspective.
Here are the Pokémon's Names:


Doryuuzu : The Mole Pokémon
Ononokusu : The Mantis Pokémon
Desukan : The Sarcophagus Pokémon
Denchura : The Tarantula Pokémon
Moguryu : The Baby Mole Pokémon (Assumed to be the pre-evolution of Doryuuzu)
**The Pokémon that are in the bottom right image have yet to be named.**
We have also learned about two new Pokémon moves:
There is also a new addition to the battle scenes (ex.:Pokémon, Battle, Run) called "
Shooter
" We do not know much about it as of now.
Finally, there will be
Three on Three Pokémon Battles
where Three Pokémon will verse Three other Pokémon.
The Video Below Shows all of the information more thoroughly
Stay Tuned For More Information On Pokémon Black and White!
12 comments
---
By
AuraKshatriya
on
June 27, 2010
As the title says, a new trailer for Pokemon Black and White was just shown on Oha Suta, and showed a variety of new Pokemon, as well as displaying a brand new feature to the series which some have speculated-triple battles!
All I can say is Cat picked a bad time to take a break xD But I suppose he can get really excited when he gets back.
The names of the new Pokemon are as follows:
Ononokusu
Doryuuzu
Desukaan
Denchura
Moguryuu
Source at Pokébeach.com
Source at Bulbanews
20 comments
---
By
MasterDVD007
on
June 27, 2010
Completely New Pokemon Black and White Videogame Footage from the Special DVD Promo of the Pokemon Movie "Phantom Champion Zoroark"! You can rent this Special DVD promo for free at any Tsutaya stores in Japan!
Dogasu showed this week some screenshots of this Special DVD Promo, but, Pokebeach uploaded the full clip of it!
Here it is:
You can hear that the BGM of the video sounds like a remix of all the past Pokemon screen titles, so, maybe what we heard in this video, will be the actual Pokemon Black and White Screen Title theme!
Hasta luego...
Source and credit goes to:
Pokebeach
1 comment
---
By
Cat333Pokémon
on
June 26, 2010
The official release date has been announced on Pokémon Sunday: September 18, 2010. Additional clips from the games were revealed.
Video credit to Filb.de, upload from AuraKshatriya (Warning: contains Michael Jackson's
Black or White
at the beginning, which was in the actual airing.)
Source: Pokémon Sunday
The date was again confirmed in today's Daisuki Club newsletter:
8 comments
---
By
Cat333Pokémon
on
June 26, 2010
For those who haven't heard, I'm going to be visiting Hawaii for the next week, starting Sunday (June 27) morning and ending the following Saturday (July 3) morning. During this time, I will not have a computer. The only device I will have is a phone, and I will not be using any mobile IM services. I probably won't really respond to any texts, including server errors.
Please DO NOT send me any server error notices!!
As for any Pokémon news, my site obviously will not be receiving any updates with the exception of the staff-posted news.
Also, during this time, please direct all inquiries, server errors, and other problems to the admins. If it's urgent, like a server crash, send it to Yoshi648, KingOfKYA, then FreezeWarp (in that order, because of the power they have). If it's anything like weird coding/debug messages, VictoryBattles glitches, or anything forum related, contact in this order: FreezeWarp, Yoshi648, then KingOfKYA. Be sure to add them to your MSN, AIM, Skype, and Yahoo! lists. You may still contact me via PM, and I might respond to it on my phone in the evening, but don't count on it.
Also, during this time, I may periodically send photos to Yoshi via MMS/e-mail. I've asked him to supply a photo album here on VR to upload these photos to. Look forward to seeing exotic pictures!
EDIT from Yoshi: Pictures will be uploaded
here
. I will upload new ones as soon as I receive them from Cat so check back for more.
Remember,
Yoshi is the lead administrator while I am away.
Freeze and KYA will take high importance, too, so be sure to listen to them!
Good-bye everyone, and have fun on Victory Road while I'm away!
~Cat
63 comments
---
Jump to Page:
1
2
3
4
5
6
7
8
9
10
11
12
13
14
15
16
17
18
19
20
21
22
23
24
25
26
27
28
29
30
31
32
33
34
35
36
37
38
39
40
41
42
43
44
45
46
47
48
49
50
51
52
53
54
55
56
57
58
59
60
61
62
63
64
65
66
67
68
69
70
71
72
73
74
75
76
77
78
79
80
81
82
83
Archived News
Old news up to August 20, 2009
---
vBulletin Viewer Version 1.7.0 Copyright © 2010 Joseph Parsons.
vBulletin © 2010 vBulletin Solutions. vBulletin™ is a registered trademark of vBulletin Solutions.
Recently Replied Topics
---